I'm always cooking and flavoring our food with essential oils, so I am super excited about this recipe for these raw, gluten-free treats from dōTERRA! These may be a new staple in our house!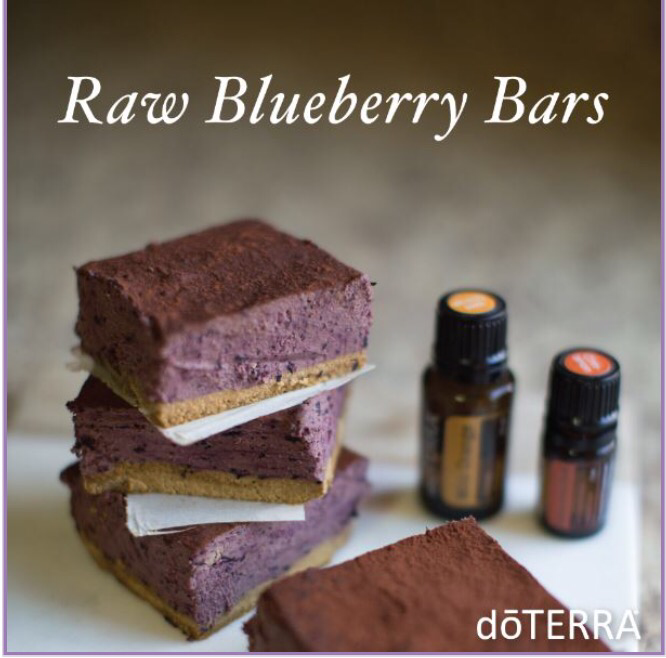 INGREDIENTS:
Base Layer
1 1/2 cups oat flour
4 tbsp water
2 tbsp coconut oil
2 tbsp maple syrup
2 tbsp molasses
1 drop Cinnamon essential oil
Blueberry Layer
4 cups organic blueberries (Frozen is fine but be sure to thaw first; also, fresh will give you a more vibrant color.)
3 cups GF oat flour (I use my vitamix to grind up GF rolled oats)
1/2 cup maple syrup
5 tbsp coconut oil
2-5 drops Wild Orange essential oil
DIRECTIONS:
Bottom Layer: Melt coconut oil in microwave and combine with other ingredients, adding the Cinnamon essential oil last. Mix well. Press mixture into a layer an 7×11 pan. Place pan in refrigerator to firm up.
Blueberry Layer: Puree blueberries in a food processor. Melt coconut oil and combine all remaining ingredients, adding the Wild Orange essential oil last.
Press blueberry layer evenly on top of bottom layer. Dust with unsweetened cocoa power like we did or leave them blue and bare-y. Place in fridge to chill until desired consistency is reached.
http://doterrablog.com/raw-blueberry-bars-with-wild-orange-and-cinnamon-essential-oil/