So these look a lot like my 3 ingredient breakfast cookies, but have a flavor all of their own! It has finally dropped below 80 degrees here in Southern California and fall is in the air (at least in my mind) so time to pull out PUMPKIN EVERYTHING! WOOOHOOO!
I decided to try a pumpkin version of the oat cookies and since I am OUT of bananas (big problem in this house) I had to experiment with some other ingredients. Check out these yummy pumpkin spice breakfast cookies. They aren't overly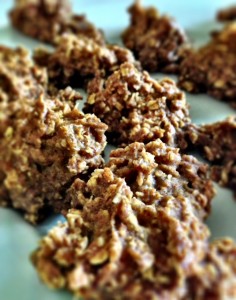 sweet, but my kids didn't seem to complain (had to snap a quick pic before they were gone) and they were just the pumpkin spice flavor I was craving 🙂
Allergen Free Pumpkin Spice Breakfast Cookies (dairy, wheat, egg, nut free)
2 1/2 cups Rolled Oats (recommend Bob's Red Mill GF if you need a gluten-free version)
1 cup organic pumpkin puree
1/2 cup apple sauce
2 tsp organic vanilla extract
1 Tbsp cinnamon
appx 1/4 tsp each of ground ginger, nutmeg, cloves
3/4 cup organic brown sugar
Throw all ingredients into a stand mixer and mix until a nice blended dough forms. Drop 'dough' onto greased cookie sheet and bake at 350 degrees for 10 minutes. Enjoy with a nice hot cup of coffee or a pumpkin spice latte (recipe coming soon)!