I have been making quiche a LOT lately – mostly due to my husband\'s love of it that has only increased after our recent trips to France. The quiche in France is a must-have. The French have a way with cooking that I would say can not be replicated, but it may only be that in order to replicate it we would not want to eat it seeing as how there's no way to get all that flavor without a LOT of bad-for-you ingredients : )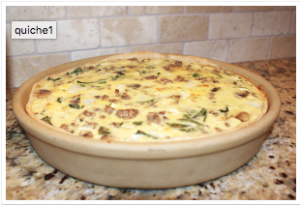 Quiche is one of my favorite ways to use up random ingredients in the fridge, especially veggies that aren't going to last if they don't get used ASAP but the last thing you feel like eating for dinner is a random steamed veggie medley.  Some may think quiche is a breakfast food, but we usually make it for dinner and then have it for breakfast or lunch the next day!  It reheats well and is good ANY time of day.
I have settled into this recipe that we love and hope you will enjoy it too.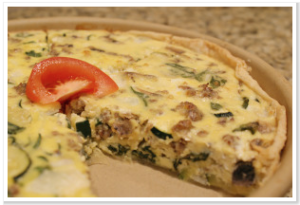 I apologize for vague quantities, but it is quite forgiving which gives you plenty of room to play around and experiment.  You can make quiche 1000 ways – this one is my preference.
I use an 11″x 2″ deep round stoneware dish so all quantities are appx for that size
1 lb roll Jimmy Dean HOT sausage OR appx 2 cups diced spiral cut ham
You can use any type of meat, but the stronger the flavor the better
appx 1 cup chopped onions
2-3 cloves garlic
5 or 6 whole mushrooms, chopped
2 handfulls of spinach leaves
1 medium tomato, diced
*1 zucchini, squash (I only add if making veggie quiche w/out meat)
1 – 8oz block of cream cheese
appx 1 cup shredded white cheese (I use a white jack mexican blend, but you can use swiss, gruyere, or whatever suits your flavor preference)
appx 1/3 cup crumbled feta
2 Tbsp heavy cream (optional, but helps cheese melt smoothly)
6-7 eggs, lightly beaten
1 – 9 in pilsbury pie crust roll
Directions:
Preheat oven to 350
If not pre-cooked, COOK meat it thoroughly and chop into small pieces.  In a separate pan, sautee onions and garlic in pan until softened.  Dice mushrooms or other veggies into bite sized pieces and cook thoroughly.  Remove from heat and add spinach leaves and stir in until wilted.  Add chopped tomato.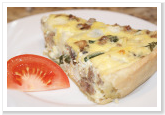 In another pan, combine all cheeses and cream and melt over med heat until smooth.  Remove cheese mixture from heat immediately after melted and let cool.  I prefer to break the eggs into the cheese mixture one at a time to incorporate for smoother texture.  **MAKE SURE the cheese has been removed from the heat and cooled enough that it will not cook the eggs.
Place pie crust into your quiche or deep pie dish.  Stir cooked veggies & meat into egg/cheese mixture until well incorporated.  Pour entire mix into the crust and bake at 350 for appx 45 min or until center of quiche has set.
Enjoy!