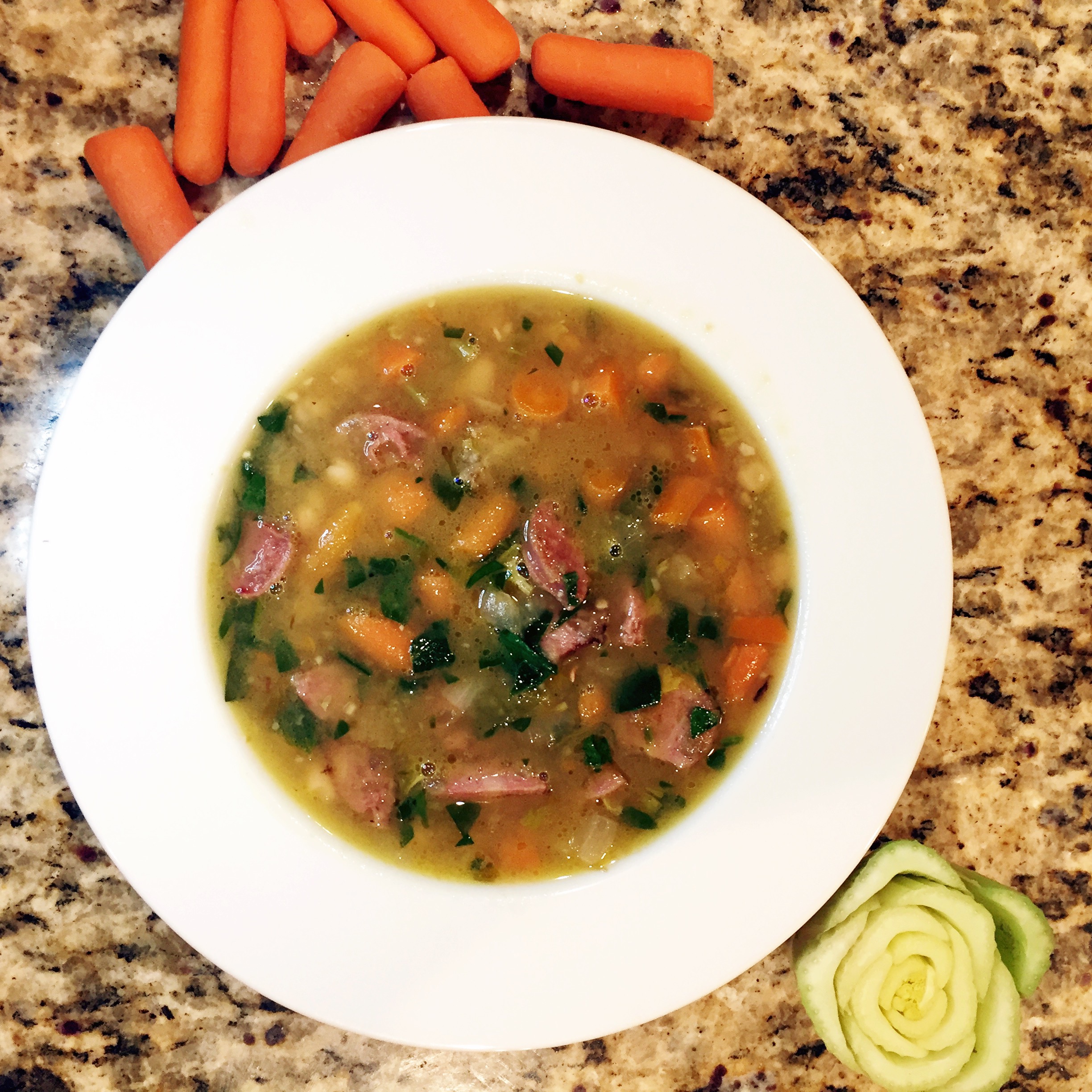 Not only is a warm bowl of homemade soup a fantastic end to a winter day, there are a lot of health benefits that can pack into a soup and it is one way we make sure to get in a lot of good broth and veggies. There are a lot of benefits to upping your intake of bone broth, and with my son dealing with severe autoimmune and gut issues we are trying to make sure that the broth and soups are a regular part of our diet. Of course our soup recipes are always gluten, dairy and nut free thanks to our sons' food allergies. (the only dairy would be an optional cheese on the top).
This week I chose to try a ham and bean soup. I had saved the ham leg bone from our Christmas ham and had it in the freezer. The base for a lot of my soups starts the same. I chop up a bunch of onion, carrots and celery and cook until softened, then start branching out on my flavors from there. Here is the recipe that I ended up with for this soup and it was absolutely DELICIOUS! One of my favorites yet and even the kids gobbled it up quickly and asked for more.
Ingredients:
1 large yellow onion, chopped
1 bunch of organic  celery, chopped
2-3 cups of organic carrots, chopped
64 oz of organic chicken broth
salt and pepper to taste
2 Tbsp organic minced garlic
rosemary and thyme infused olive oil
1 ham bone (optional for flavor)
2-3 cups organic spinach leaves, chopped
1 bottle angry orchard crisp apple gluten free hard cider
2 – 15 oz cans of organic navy beans
2 – 15 oz cans of organic cannelini beans
2 packages of aidells natural chicken and apple smoked sausage (browned and chopped)
How to:
Add chopped onion, celery and carrots into a large stock pot with some rosemary & thyme olive oil (or oil of your choice) and cook on high until they begin to soften
Add in ham bone if you have one
Pour in the chicken broth and turn heat down to a low simmer
Add in the hard cider to flavor your broth (this is a delicious flavoring), salt, pepper and garlic
in a separate pan, brown the chopped chicken and apple sausages until thoroughly cooked
add the sausage into the soup
allow to simmer for 30 min – a few hours (I personally think the earlier in the day you make them the better the flavor)
add spinach
about 15 minutes before serving, add in the beans. I like to add them at the end so they are not too mushy, but still have a chance to get warm
remove the ham bone and discard
pour into bowls and top with some fresh grated Parmesan cheese (if you can do dairy)
ENJOY!