So I love the flavors of curry, but can't take the heat with most pre-made sauces. With the allergies here we have to make everything from scratch anyway, so I've developed a quick and easy way (NOTE:: not claiming it is authentic) to make a yummy curry dish here at home with whatever we have at the time… and use our amazing doTERRA oils to flavor it!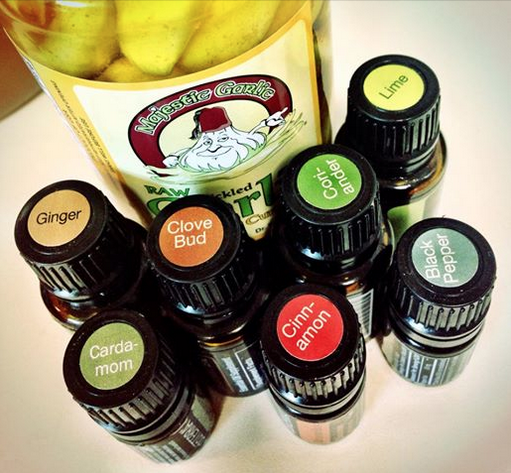 Here is my loose 'recipe' that you can follow and modify at will:
MEAT & VEGGIES:
about 2 lbs of bite sized chopped meat (beef or chicken)
1 onion chopped
1 head cauliflower, chopped (we've also added potatoes before)
several carrots, chopped
1 small carton of grape or cherry tomatoes
1 jar of Majestic Garlic curried garlic (this stuff is not easy to find, but is AMAZING). I apologize if most of you can't get this bc IMO it really makes the dish. If you can't get it, any whole pickled garlic cloves may also be a good substitute. I put in a LOT.
SAUCE:
1 can of organic fire roasted diced tomatoes
3 small cans of organic coconut cream
a few TBSP of dairy free butter
SEASONING:
several TBSP of mild curry powder
about 2 TBSP of cumin
a few drops of doTERRA lime essential oil
1 drop each of doTERRA Cardamom, Coriander, Ginger, Cinnamon, Clove Bud, Black Pepper essential oils  (if you don't have these yet, msg me and I can get them to you)
a dash of sugar to balance out the tomatoes
more cinnamon powder if needed
salt to taste
This week I started with some beef pieces cut into small bite-sized portions and marinated them ahead of time in some olive oil, salt and a can of coconut cream (we usually use chicken).
Heat some olive oil in a pot (I like to use my enamel coated cast iron dutch oven) and cook up some chopped onion until tender. Add in the cauliflower, carrots and meat until meat is browned and veggies are tender.
Add in 1 can diced tomatoes, 2-3 cans of coconut cream (less if using the full sized cans, but mine were the really small cans) and butter. Throw in the grape tomatoes, garlic cloves and all seasonings and let it simmer until flavors are well blended. This one really requires you to customize the flavors to your liking, but that is what I love about making this dish!
Serve over brown jasmine rice. YUM!