Anyone that knows me knows that we LOVE our smoothies! We make them every morning and my 2 toddler boys BEG for these. It's a great way to get a ton of fruits and veggies in right away and start the day right. Of course all our recipes are dairy free so the calories are kept at a minimum too.
My only regret in getting super amazing high powered blender is that I didn't do it sooner. If there is one purchase we've made in the last few years that has contributed the most to our nutrition, the Vitamix wins hands down. Of course you don't have to have a Vitamix to get healthy amazing blended things quickly, but man, it helps a lot. The best thing for us about it, is that it mixes everything so well you can hide a LOT of veggies in….and still have a delicious smoothie.
There are endless possibilities and you can throw in whatever you want, but here is our morning go-to smoothie recipe: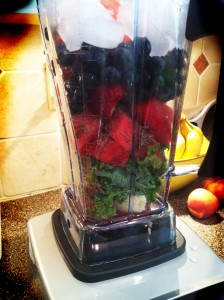 2-3 bananas (not overly ripe b/c I don't like too much banana flavor)
2-3 stalks of kale (stalks removed – using the leaves only makes it less bitter)
1-2 cups strawberries or 1/2 bag frozen (frozen are great to chill smoothie without watering it down)
2-3 cups baby spinach
1 fresh lemon, juiced (I juice in 1-2 oranges too if I have them)
about 2 cups organic rice milk (add more if needed to thin texture)
This is the base no-fail recipe that we love, but it's also great for throwing in veggies that may need used up like cucumber or carrots! If not using any frozen fruit, add a handful of ice to chill and thicken it up. Despite the photo, I normally avoid blueberries in the smoothies (they love to eat them on the side) as I find they thicken up too much after sitting for a few minutes and are a really big pain in their straw sippy cups.
We also add a drop of Vitamin D to the cups before serving per our amazing pediatrician's recommendation. It is a vitamin packed way to start the day, and fills them up with the good stuff before anything else!