Gluten Free Pumpkin Bread with Wild Orange Glaze
slightly adapted from this awesome recipe from Brandie at http://www.spoonandsaucer.com/gluten-free-pumpkin-bread/?crlt.pid=camp.ySpC6lN1AjBf
I honestly would LOVE to make this again with her eggnog glaze, but the SO Delicious coconut eggnog that I love is not easily available here, so I may have to wait until we go out of town and then bring a cooler to stock up (it's worth it, folks).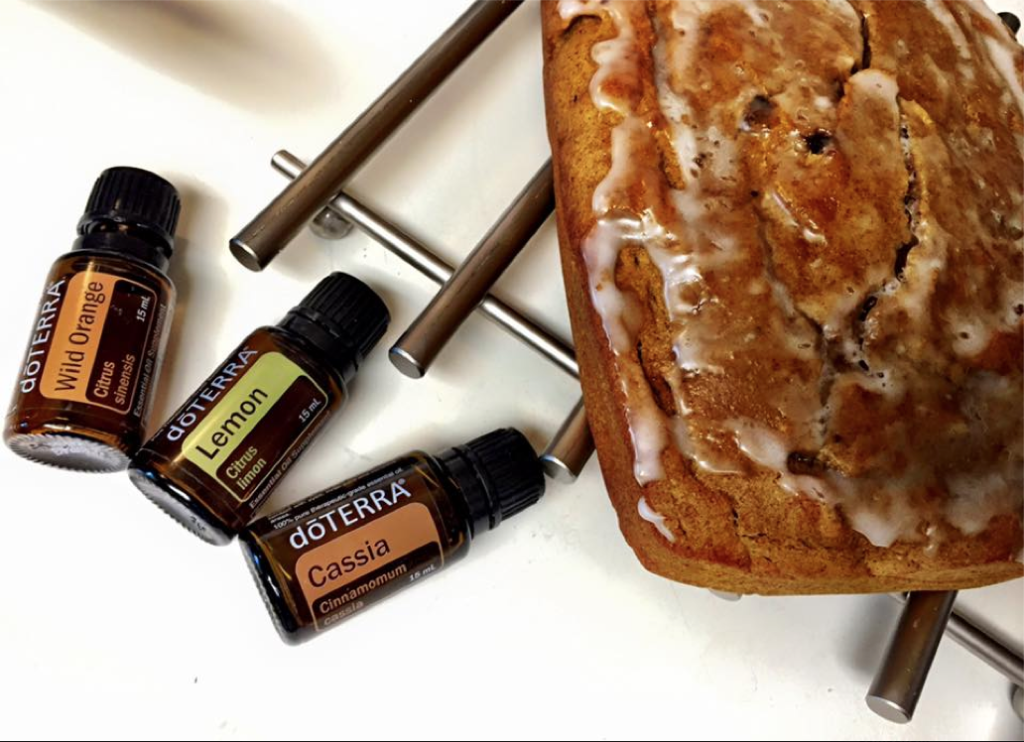 * This recipe is a double batch because you will be MAD if you make only one loaf. Trust me.
Pumpkin Bread
3 cups Bob's Red Mill Gluten Free 1:1 Baking Flour
2 tablespoons pumpkin pie spice (I ran out, so I did 1 Tbsp pumpkin pie spice, then added some fresh ground nutmeg, 2 tsp cinnamon, some ginger, clove and allspice)
4 teaspoons baking powder
1 teaspoon kosher salt
4 large eggs
3/4 cup applesauce
1/4 cup oil
1 drop Cassia Essential Oil**
6-8 drops Lemon Essential Oil**
3/4 cup granulated sugar
1/4 cup brown sugar
1 cup pumpkin puree
Wild Orange Glaze
1/2 cup powdered sugar
1 tablespoon water (or more as needed)
2 drops Wild Orange Essential Oil**
Instructions
GF Pumpkin Bread
Preheat oven to 350F
Grease 2 loaf pans.
In a large bowl, mix dry ingredients (flour through salt) with a whisk until well combined.
In a separate medium bowl, whisk together all the wet ingredients until well combined.
Add the wet ingredients to the dry, and mix just until there are no dry clumps, being careful not to overmix.
Pour the mixture into your greased loaf pan, and bake for appx an hour, or until golden brown, and a knive or toothpick comes out clean.
Remove from the oven, and cool on a wire rack.
Wild Orange Glaze
Put the powdered sugar in a cup, and add the water.
Whisk until the glaze is thick, and smooth and add in the Wild Orange oil.
Drizzle on the bread, and let it sit until the glaze has dried out a bit.
Slice and enjoy!** I use only 100% pure therapeutic Grade Essential Oils that are batch tested for purity and safe for internal use. Contact me if you would info on where to get these essential oils.