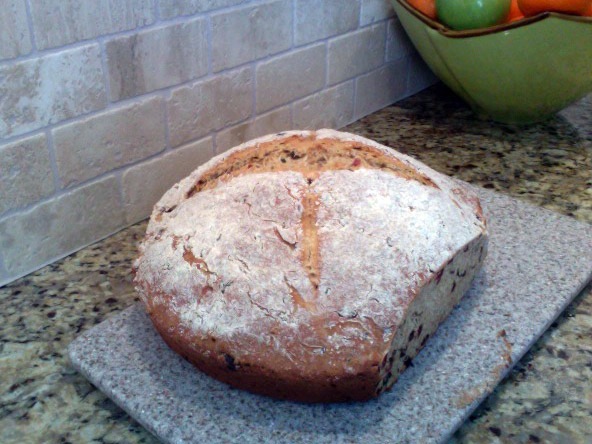 This bread is good any way you slice it. I compiled ideas from several recipes and this is what I came up with… We started making this for St Patrick's Day 2009 and it has been a favorite ever since! Since this one is not easily adapted to be dairy free, we have avoided it for the kids until this year. Now that we are able to do baked egg and milk, we converted this to a gluten-free variation this week. The texture is a bit more dense, but the flavor is still spot on!
IRISH SODA BREAD
1/2 cup white sugar
2 cups white flour***
2 cups wheat flour***
***[for gluten free, sub these for 4c gluten free complete flour mix]
2 tsp. baking powder
1 1/2 tsp. baking soda*
3/4 tsp. salt
1 cup currants
1/2 cup craisins
1/2 cup pecans [nut-free sub for sunflower seeds]
1 Tbsp flax seed, pecans
1 Tbsp. caraway seeds
2 eggs lightly beaten
1 1/4 cups buttermilk
1/2 cup sour cream
1/2 cup plain yogurt**
**(can substitute yogurt/sour cream) If using ALL sour cream, decrease baking soda by 1/2 tsp. If using ALL yogurt, increase baking soda by 1/2 tsp.
1. Preheat oven to 350 degrees F (175 degrees C). Grease a 10 inch round cast iron skillet (or could use round baking or cake pan)
2. In a mixing bowl, combine flour, sugar, baking powder, baking soda, salt, raisins and caraway seeds. In a small bowl, blend eggs, buttermilk, sour cream and yogurt. Stir the liquid mixture into flour mixture just until flour is moistened. Knead dough in bowl about 10 to 12 strokes. Dough will be sticky. Place the dough in the prepared skillet or pan and pat down with a dusting of wheat flour. Cut a 1 in. by 6 in. deep "X" into the top of the bread before baking.
3. Bake in a preheated 350 degrees F (175 degrees C) oven for appx 50 min or until brown and pulling away from sides of the pan. Turn bread onto a wire rack to cool.