Our go-to favorite beach camping spot in Southern California has always been San Onofre Beach, so when we thought about starting out we figured it is smart to start somewhere familiar that we love. We drove out of the 112 degree desert and have arrived at our 'camping beach' safely with the airstream!
We were saying our prayers all the way down the hill after finally pulling through the weigh station ? Turns out with all of our things loaded up + propane + water we are just out of the 'safe' towing capacity of our Toyota Sequoia ? We LOVE our sequoia and are racking our brains as to what we could take out of the airstream to lighten up. Thankfully we will be here working on some things in the area, so we have some time to figure out a plan before we have to drive again.
Talk about stress. We are FINALLY all moved in and managed to weed through everything we own and get rid of a LOT. We packed up the rest and had the movers take it to my family in SC to store, but kept all our favorite or essential things just to realize we are in a bad spot with the weight. Anyway, we have arrived in San Onofre and set up camp, unloading all of our tools and construction materials that we had to bring with us to finish up. The boys ❤️ their 'camping beach' so we have not had any issues with the transition for them so far. It just feels like we are in a weekend vacation. So weird.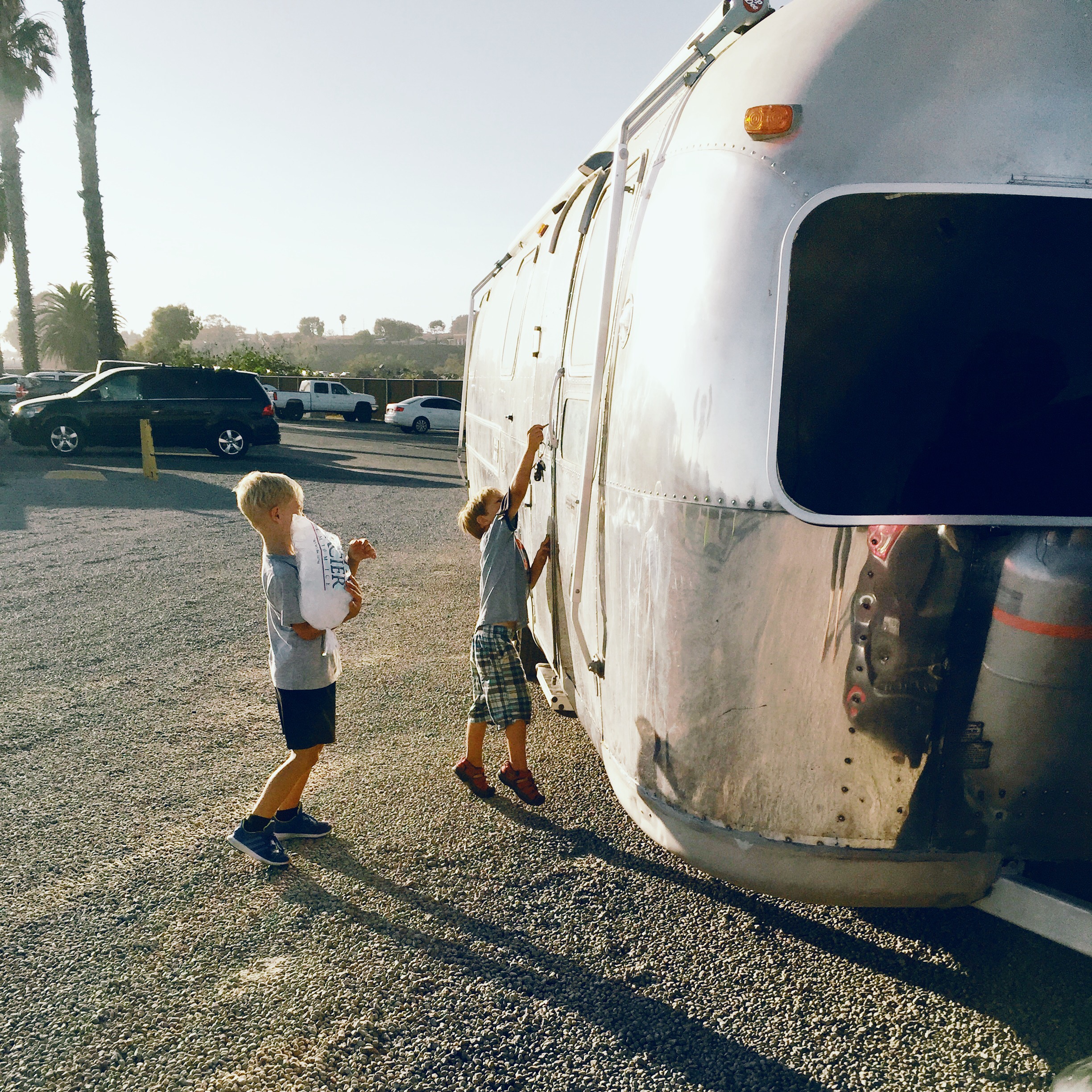 We have water and electricity hookups here, but no sewer. We figured for our first night living in it we won't know any different, so just pretending we are camping with some extra perks. ? We looked like the total amateurs that we are trying to back in and level it the first time, but we managed!

So we hooked up our water and have running water!!! Yay! Unfortunately we did not have time to hook up the propane tanks and hot water heater before leaving so we have no hot water ? we are just so happy to be out of the 112 degrees and the desert …..and this is our new backyard view, so we don't even care!