What is fall without the smell if cinnamon lifting through the air and sweet homemade treats warm out of the oven?
Here are 2 recipes to enjoy this season. Try this super easy cinnamon cream pear tart – or just whip up a batch of cinnamon cream cheese for amazing flavor on whatever you choose to add it to!
Cinnamon Cream Cheese
2 – 8 oz blocks cream cheese
1/3 cup brown sugar
3 drops cinnamon bark essential oil (measure carefully – this is a strong oil)
Throw all ingredients together and mix until smooth!
Cinnamon Cream Pear Tart
1 can refrigerated crescent rolls
1 batch cinnamon cream cheese
3-4 pears, peeled and sliced
Lemon essential oil spray (optional)
Fresh blackberries (optional)
Spread out crescent roll dough in a greased tart pan. Flatten seams together to make one crust lining the pan. Bake at 350 for 8 minutes while preparing the other ingredients.
Peel and slice pears and spray with lemon essential oil spray (8 oz water to 15 drops essential oil in a glass spray bottle). When crust has pre-baked, spread a thick layer of cinnamon cream on and top with sliced pears!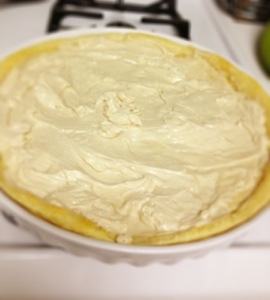 Bake at 350 for another 10 min until pears are soft and starting to brown on edges. Garnish with fresh blackberries and serve warm or chilled (I like it even better cold)!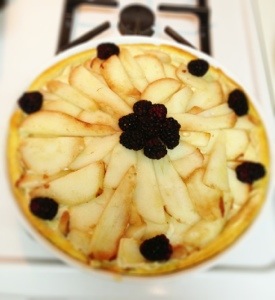 Save the leftover cinnamon cream to serve on bagels, cracker trays, fruit dip, whatever – this spread alone will be a huge hit at your holiday party!