It's quite rewarding to spend so much time and energy making a plan for a versatile yet small space, draw it out, change it a million times, tweak it again, figure out how the heck it will work and then actually get to make it happen.
Today was a loooong day, but we finally made it happen! My poor husband has been putting in 12+ hour days on the weekends and long evenings during the week, so this week I jumped in to help and man….. I'm spent.
This weekend's project was to start on the interior build-outs!
We chose to start with the back bunk room for a few reasons:
1: we knew the sizing of the beds that we wanted so the space was non-negotiable. With several spots still in question as to where we will designate the space, the beds with fixed sizing seemed like a logical spot to dive in
2: the curves are a pain. The back lower bunk on the curve gave us a good spot to practice that will be more out of sight than the front dinette in case our first attempt was less than stellar
3: the boys are over the moon about sleeping in this thing and it is pretty fun to watch their excitement over their beds going in – plus they can 'camp out' on them now over the weekends while we finish the rest
What we ended up doing:
2 twin XL bunks that will be cut down a few inches (35.5 width vs 39). We originally had them much narrower, but decided to pull them out a bit so that the edge would be on the rib and line up with the start of the back curve (for extra support and strength). We did not want the full 39 inches because every inch counts in this thing and we figured that narrowing it a few inches would be a happy medium and still sufficient for rapidly growing boys to house them for years to come.
Next to the bunks we have the awesome massive generator box :/ To cover this, we decided on a custom pull out bed that folded could still be plenty of space for our 2 year old and when needed would open up to a full sized bed. Instead of making it fold in half like a traditional futon does, we cut it in 1/2 the other way lengthwise. The folded dimensions will be 54″ x 40″ and it will open up to 54″ x 75″ for the full bed. Since our little guy is still mostly little, this would give us room to grow but should be more than sufficient space for him to sleep without opening it up each night.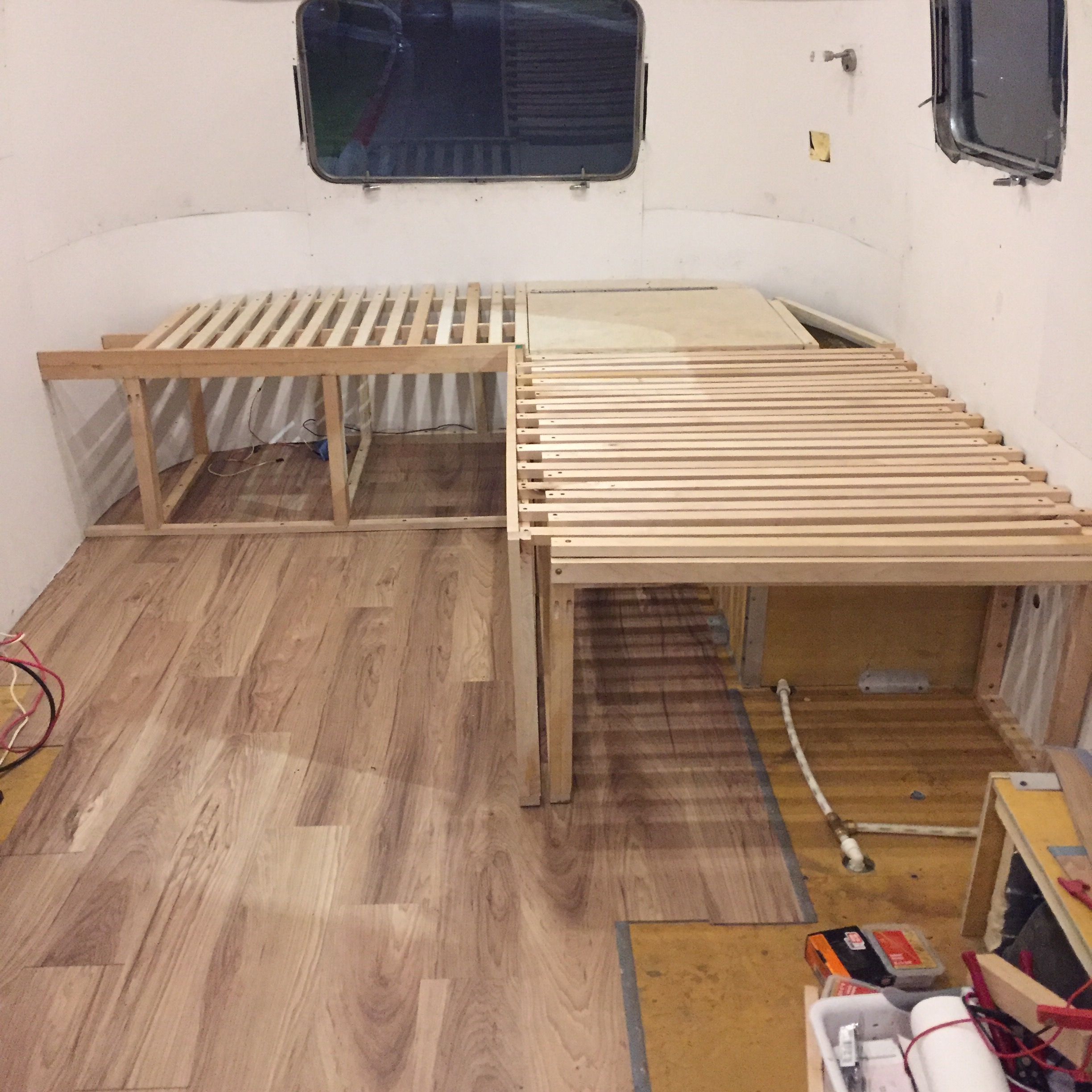 We knew we wanted this room to be versatile and a spot that all 5 of us could use if we have travel guests, opening up the front 'bed' for the guests. During the day we also wanted a good spot for the boys to hang out, a place anyone could crash for a nap or curl up with a book, and also a spot that could function for he boys school work if needed. The full sized bed when folded next to the bottom bunk creates a large 'L' shaped seating area and allows space for a built-in desk under the opposite window to open up (we haven't engineered this part yet). You can see how the 2 beds together make the 'L' shaped seating area, but check out when it opens! Not only can it be a full sized bed that will be next to the bunks, but the total sleep area on the bottom when it is fully extended will be slightly larger than a Cali King mattress, which will be awesome when we need it! The other reason we chose to go with a full bed cut in 1/2 is that we extended the center bath to be about 40″ wide so the door from the hallway should line up well with this offset layout.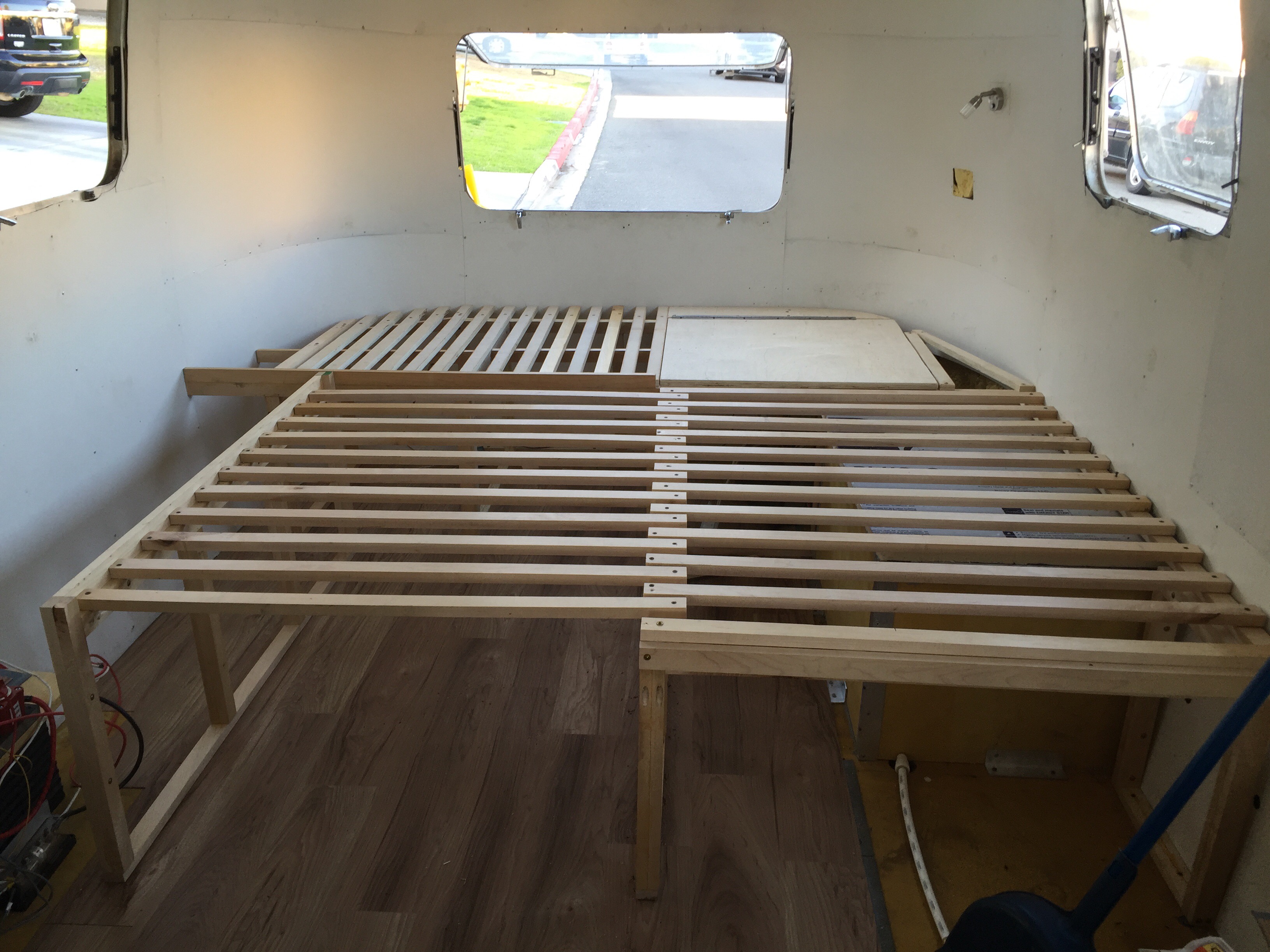 STORAGE:
We need every inch of storage space we can get, so under the beds will be the 'dresser' to store the boys' clothes. There are 3 large storage compartments under the back bunk and we hinged the corner so that we can access that for less frequently needed items along with all the electrical boxes and breaker box.
Under the full bed when folded shut is the generator and then 3 compartment areas for additional storage. I am also working on a concept to make 3 storage boxes that will sit on the top half of this bed to turn it into more of a window seat. The 3 top storage boxes will be their 'toy' boxes – each boy will get his own box and that is where they will get to pick whatever toys they want to bring…..as long as it fits into their box.
I know, some people think it is crazy to limit them to one box, but the whole idea of this lifestyle is to get outside, get moving and SIMPLIFY! You would be shocked at how many toys still fit into that space. I am quite excited to put the rest of this room together, but for now you'll just have to envision the plans based on the frame 🙂
For those who want the 'how-to' part, here ya go:
1 – we started with framing out the front of the back bunk. Keep in mind the walls are curved in all directions which can make a square, perfectionist personality literally lose their mind! The width of the airstream at 20″ high is several inches wider than what it is at the floor so the key to framing it out is measure 10 x & hopefully cut once.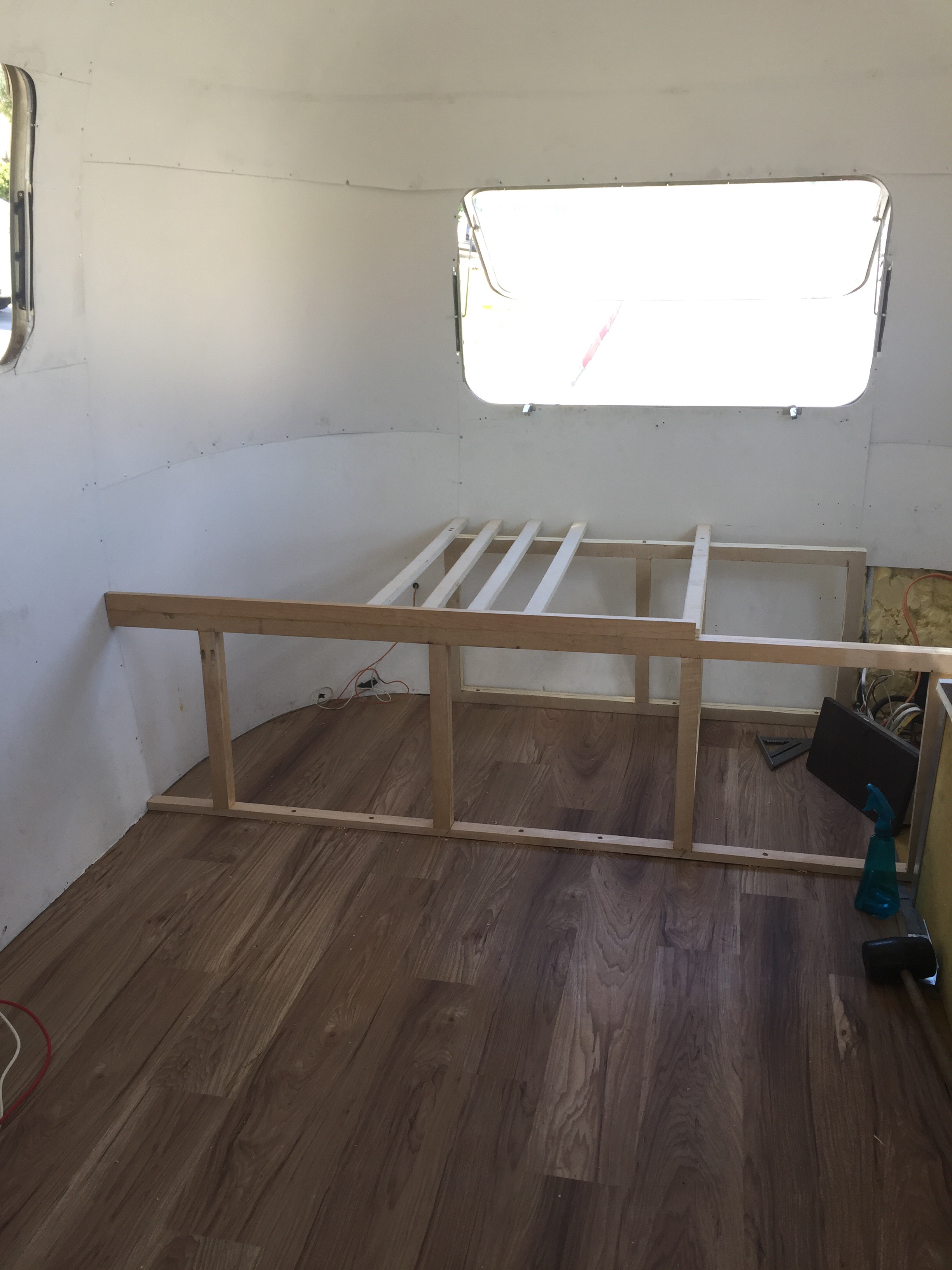 We made the bed frames 20″ high because that is what we needed to clear the generator box after insulating. We knew we wanted the beds all the same height to give it the versatility to open into one large bed if needed. Once that front framing piece was set, we screwed it into the floor and went from there.
2 – made a back frame piece on the 'straight' part under the window that we could use to support the back.
3 – started filling in that area with slats since we knew those storage sections would be accessed from the front. We originally wanted to hinge the entire back bed, but for some reason once we started we figured we'd just go with front access storage areas. We cut a solid panel for the back corner since the only way to access that part will be top down. We have debated whether or not it was a mistake not to hinge the whole thing, but it's done and I think what we have will still work out fine.
How to make the slide-out bed:
1 – Do the math to see how long you will need each section. for us, our open size needed to be 54″ wide by 75″ long.
2 – We made one frame that would be fixed and another frame that would move with the bottom when the bed was fully extended. Once you determine the length of the slats you need, you then alternate securing the slats to the "top" and "bottom" frame pieces. This is the point where a video is worth a thousand words, so I will post a video of how the frames work and slide later this week.
I would try and explain it more, but it's late and our brains were fried hours ago from trying to do the math on this. We ended up with a bit of trial and error because it was just easier to dive in and figure out our measurements hands on. It led to a few more adjustments than we originally had planned, but it all worked out in the end and I think considering we have never built anything like this before it turned out pretty well!
Please post any questions here – we would love to answer them and are documenting more of the details in hopes that it may help some poor soul figure out their plan a little easier. We would be lost if it weren't for so many of you awesome renovators that have gone before us sharing your tips, plans, ideas and how-to's! We are so grateful!