After going dairy-free a few years ago because of our son's food allergies, chocolate pudding was one thing we definitely cut from our diet that we missed (though it's a good thing now that I look back at the ingredients)!
I came across this amazing recipe shortly afterwards and our idea of dessert was forever changed! I wish I had come up with this on my own, but give many many thanks to Katie at chocolatecoveredkatie.com for this amazing recipe. I find it tastes much more like a rich chocolate mousse than chocolate frosting. Best thing is that it's DAIRY FREE and uses nothing but simple real ingredients!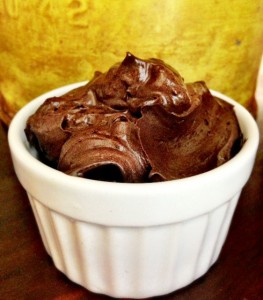 Here's all it takes: (WARNING: you will want to double it so go ahead and prep 2 cans)
1 can coconut milk or cream
1/4 cup 100% cacao powder or cocoa powder (I like to use the dark cacao)
1 tsp pure organic vanilla extract
sweetener of your choice to taste
The challenge here is it takes some advanced planning. Open the can of coconut milk, remove the lid and refrigerate for a day (if you can wait that long). You need the cream and the water to separate and the cream to thicken. Carefully remove it from the fridge, pour the cream out into a bowl and save the coconut water to add to your next chicken marinade (coconut is the BEST for marinating chicken)! Add the rest of the ingredients to the cream and mix thoroughly!
If you dump this all in a high speed blender like a Vitamix it literally takes about 3 seconds to be rich and thick. If you want to not waste a single drop getting stuck to the side of a blender, go ahead and whip it up by hand with a fork. 🙂
BONUS TIP (from lots of experience): If you do want to throw this in the vitamix, after scraping out all that you can salvage for your mousse, make a fresh cup of coffee, pour it in, quickly blend with the stuff that's stuck to the sides of the blender and pour the sweet mocha goodness all back into your cup! enjoy 🙂
On that note, if you make a double batch and happen to have any left, a few spoon fulls in a fresh cup of coffee does make a MEAN rich chocolate mocha…and all DAIRY FREE with the health benefits of coconut!