We love making these for so many reasons….here are just a few
1) they are delicious
2) my 3 year old can make them
3) my boys LOVE to eat them
4) they satisfy my preggo cravings for something sweet
5) they have 3 basic ingredients!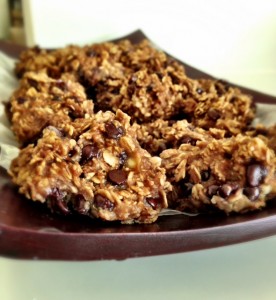 So here you go….enjoy
Breakfast Cookies
put ingredients in stand mixer and blend until soft sticky 'dough' consistency. At this point you can also throw in some mini chocolate chips, coconut flakes, craisins, whatever you feel like. We like to sprinkle in Enjoy Life Allergen Free Mini-Chocolate Chips.
Drop by spoon-full on greased cookie sheet and bake at 350 for about 10-12 minutes!